Grinberg Sessions as a 'Present'
If you are looking for a 'healthy present', you are very welcome to order a voucher for body work sessions of the Grinberg Method.

The price for a voucher depends on my actual hourly rate, which you can find under 'Learning Process / Prices'. If you would like to buy a gift voucher - e.g. for someone of your family, a good friend, or a colleague - please give me a call: 0177-3296406, contact me via contact form or send an email directly at: mail [ at ] susannekohl.de.
After payment the gift voucher will be sent to your postal address. You can also come to one of the Grinberg Studios to pick it up. Or, alternatively, you get the voucher via email as a PDF-file (name of the presentee will be included):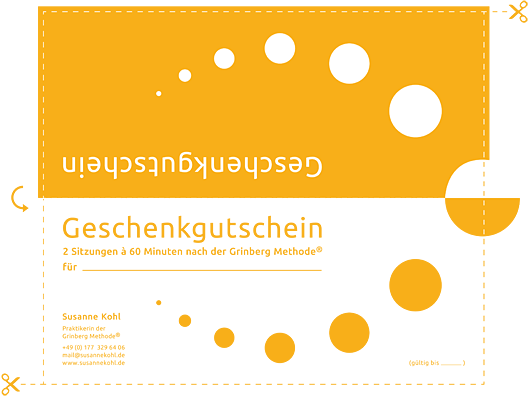 The gift voucher has a validity of 2 months.
Disclaimer - about the Grinberg Method:
The Grinberg Method is a methodology of attention, which teaches through expanding and focusing body attention. It does not claim to heal, to be an alternative medicine, a massage therapy, or to be considered among the helping professions. It is not intended for persons suffering from conditions considered life threatening, or for those with conditions or serious illnesses that require medical or psychiatric attention. Moreover, it is not intended to be a substitute for any kind of required treatment. The method has no ideological or mystical basis and does not demand any particular lifestyle.